Leadership management training with horses
Target groups

Can you benefit from a leadership management training with horses?
And how can a day of equine guided learning help you progress the career ladder plus lead to a happier work life?
Have you wondered if horse assisted learning (HAE) is for you?
Believe me, everyone can benefit from the wisdom these animals are willing to give!

Find below a list of target groups that we are currently working with.
We are however always open to new collaborations, so do contact us if you have any ideas not listed below.

Who can benefit from a training:
HR Managers wanting to hire the right people - discover the applicants true personality in minutes
Teenagers who want to work on their self-esteem
Leadership management training with a new angle
Our trainings are much more than just boring classroom learning.
This is hands on and experiential, and therefore a lot more effective in the long run.
The experience is stored differently in our brain and body than learning that comes from a coach standing in front of the group detailing the latest theories.

In horse guided education, we focus on a mix of practical exercises that bring up issues you are struggling with personally - and then we bring them into context during our feedback rounds.
Always in focus: A collaborative, safe space for learning
Very important:
The focus is always on creating a harmonic and safe place for participants where there is no right or wrong way of doing things - it's just personal choice.
You don't need to be afraid of "making a fool" of yourself.
There are many different ways of reaching a goal.
How you get there might tell you a lot about yourself, and you will probably gain new insights if you reflect on why you chose this specific way versus another one - but remember that as long as you achieve what you wanted to achieve, it doesn't matter how you got there.
And if you don't achieve what you wanted to?
Maybe there is a learning in there too....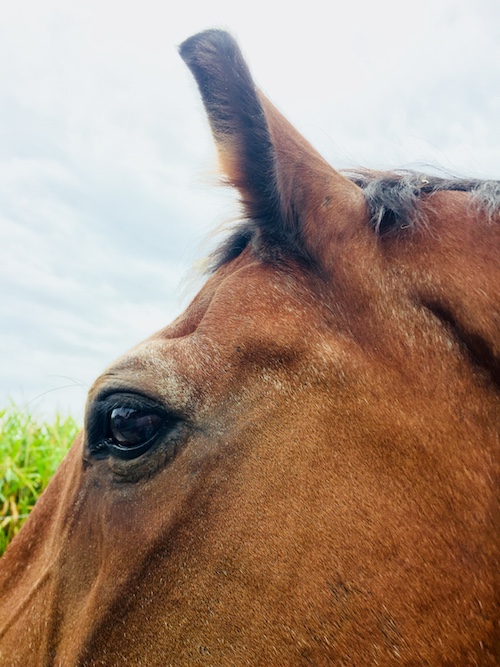 And... you don't need to be a horseperson!
Remember that this course is not about horse handling.
If you have never dealt with or touched a horse before - that's great!
The horse is our training partner in these seminars - we make use of the fact that these animals are very sensitive, intuitive and warm hearted sentient beings who are just amazing at reading fine nuances of body language.

With that, they are much more suited at picking up small signals which humans often don't notice.
Because horses have been domesticated since thousands of years, they are used to being around us humans and are not dangerous if treated right.
In our leadership management training, we will take you through a safety briefing at the beginning of the day, and will introduce you step by step to these (admittedly) big animals.
At the end of the day, you will see horses with different eyes!
Newsletter subscription
Sign up to my newsletter to stay up to date with upcoming courses, new information added to the website, and more news related to horse guided education in the UAE.