With horse power to success!
Corporate sessions in the United Arab Emirates are scheduled on demand.

Upcoming international retreats:
Are you a high achiever or leader looking for coaching with quick, straight to the point feedback?
Do you want your team to work together as one herd, efficiently and aligned?

Welcome to FeelQuest!
A coaching where the horses will give you clear, direct, honest, but also non-judging feedback in a safe, fun and unique new coaching concept!
Available both indoors and outdoors.
Why coaching with horses?

Being social prey animals living in herd hierarchies, horses teach us about collaboration, self-awareness, clear communication and about the impact we have on others.
Their feedback is always honest, immediate, unbiased and non-judgemental, thus allowing us to see clearly who we really are, without feeling offended.

Both in group as well as in private sessions their interaction leads to incredible results in shifting people's awareness and choice. 
Corporate leadership training winter season 2023 / 2024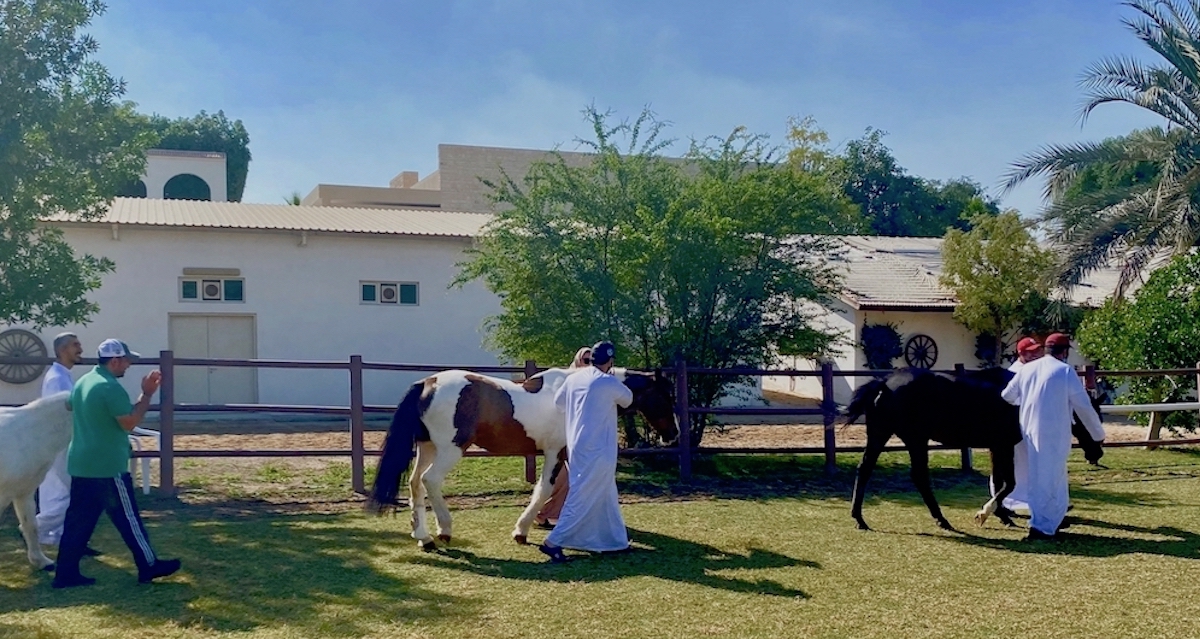 Since centuries horses have played an important role in the personal development of leaders - Kings and Emperors in their youth learned to gain the respect and trust of their horses before they were able to rule their people.
Horses request the finest leadership qualities from humans if they are to carry us into war:
charisma, a clear vision, direct communication, at the same time humility and accountability.
No, we don't ride a horse into battle during our management training!
However, we use the finely tuned non-verbal communication skills of the horse to develop emotional qualities in our participants which cannot be learned via books or videos.
Speak to me to find out how you can use the power of the herd to motivate and transform your leadership team!
This winter is the best time for this fun, experiential and powerful learning in a beautiful space out in nature - in Dubai, Abu Dhabi, Riyadh or beyond!
One on one high achiever coaching with fast results
I offer private coaching sessions in Dubai for
high executives who have already tried all of the typical classroom trainings, who want quick, transformational results and are open for feedback 
female leaders or women who want to work on their self confidence and assertiveness
These sessions for high achievers consist of a package of 7 sessions:
3 sessions of 90 min at Desert Palm Dubai with the herd of the Equestrian Association for People of Determination (EAPD)
In between each horse coaching we will schedule a 60 min session in your office for video analysis and learning transfer
One 90 min session in the office or online for psychometric analysis
You will be in awe how the horses can quickly reveal what is holding you back, and help you to discover your innate strengths as well as how to apply this learning to people in your workplace (and your private life!)
Book your session today.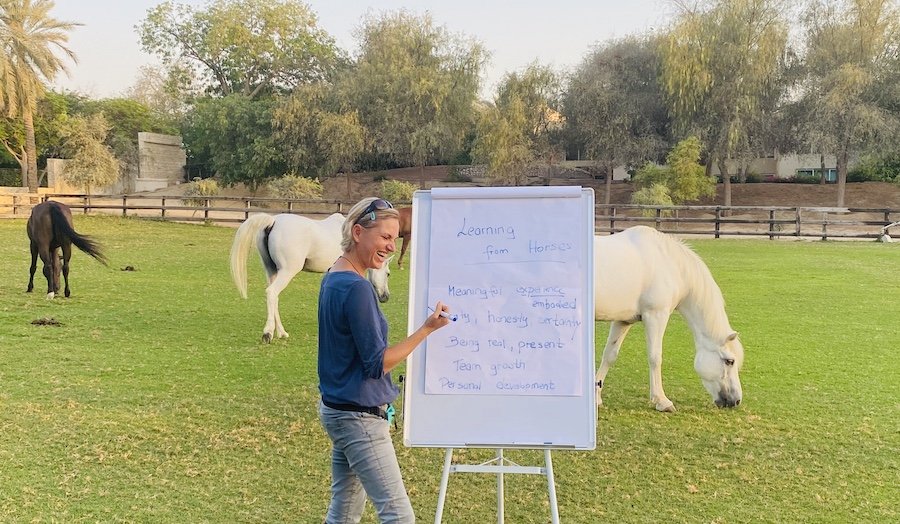 Corporate sessions and team buildings are offered from October onwards in Dubai's Melia Desert Palm Hotel, a green oasis at the outskirts of the city.

Alternatively, in Abu Dhabi's Mandara Equestrian Club and Riyadh Equestrian Center we have indoor facilities and can offer trainings and workshops all throughout the year.
We also offer leadership retreats on demand - multi day coaching sessions to make sure your company strategy is not only planned, but executed!
Just reach out and let's chat about the benefits, details and costs involved to align the people in your business, in a fully embodied experience, where we don't just talk, but walk the talk.
I look forward to hearing from you!
Monica
Companies I and the horses worked with: