A powerful coaching with horses
Are you looking for coaching or guidance, with quick, straight to the point feedback?
Welcome to FeelQuest!
A coaching where the horses will give you clear, direct, honest, but also non-judging feedback. 
A coaching where you come out feeling stronger, more self-confident, and with clarity on what you are capable of!
Why coaching with horses?

Being social prey animals living in herd hierarchies, horses teach us about collaboration, self-awareness, clear communication and about the impact we have on others.
Because of their innate survival need to scan everything that is happening around them, they easily tune in to humans entering their field. At the same time, they seek harmony, and thus request us to be congruent, authentic and open when we are with them.
Their feedback is always honest, immediate, unbiased and non-judgemental, thus allowing us to see clearly who we really are, without feeling offended.
Both in group as well as in private sessions their interaction leads to incredible results in shifting people's awareness and choice. 
Join our next FeelQuest Retreat!
If January has left you feeling low in energy and you need to work on your inner strength and flow - join us for a full day on 26th February in Abu Dhabi at the beautiful Al Wathba Resort. In a combination of energy flow yoga, meditation, horse guided empowerment and a sacred burning ceremony in the desert we will lift you up and let you feel strong and powerful again!
Find all details here...
Come with us on a journey abroad!
During Eid, from 29th April to 6th of May 2022 Maria and I will take a group of max 7 participants on a special journey to Vashlovani National Park in Georgia. 

As one of our last participants said: "I think everyone should have this experience at least once in their life!" 
Group and kids sessions
Check out the website of Heal with Horses, our group of facilitators in Dubai where we post regularly about upcoming events.
Also, every Thursday and Friday afternoon we run Horse guided Empowerment sessions for children at Desert Palm Dubai!
Personal sessions on demand
I offer personal sessions at Desert Palm Dubai, with the herd of the Equestrian Association for People of Determination (EAPD).
Their facilities are the perfect setting to take you out of the city and into nature.
Book your session anytime!
Corporate leadership days on demand 
Horses since centuries play an important role in the personal development of leaders - Kings and Emperors in their youth learned to gain the respect and trust of their horses before they were able to rule their people.
Horses request the finest leadership qualities from humans if they are to carry us into war:
charisma, a clear vision, direct communication, at the same time humility and accountability.
No, we don't ride a horse into battle during our management training!
However, we use the finely tuned non-verbal communication skills of the horse to develop emotional qualities in our participants which cannot be learned via books or videos.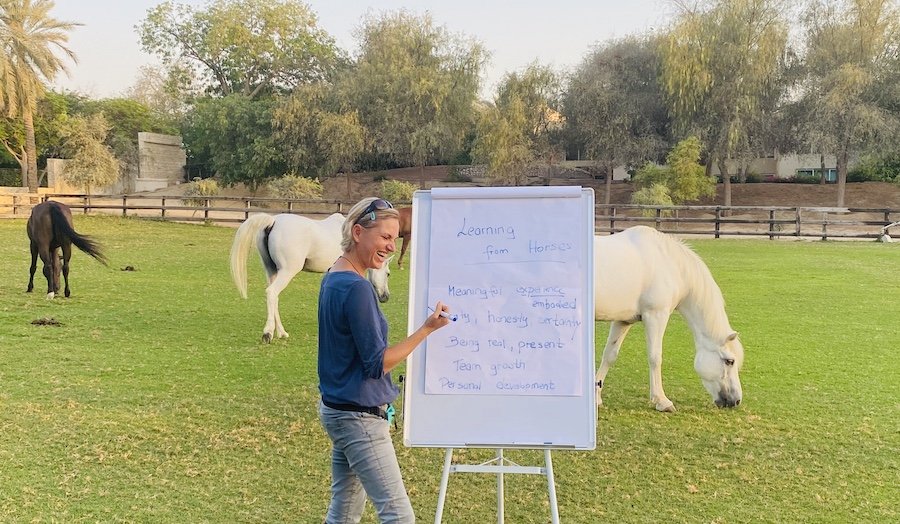 Corporate sessions and team buildings are offered from October onwards in Dubai's Melia Desert Palm Hotel, a green oasis at the outskirts of the city.

Alternatively, in Abu Dhabi's Mandara Equestrian Club we have an indoor facility and can offer safe, spaced out trainings all throughout the year.
Just reach out and let's chat about the benefits, details and costs involved to fully align the people in your business, in a fully embodied experience, where we don't just talk, but walk the talk.
I look forward to hearing from you!
Monica
A glimpse of what we can offer: