What the media says about the coaching with horses
Media is a great way to help spread awareness of how horses can help humans. 
We all have the answers within us - we just need to listen, and the horses can help us with that.
Read on what others have said about this work:
Khaleej Times
Thank you Mazhar Farooqui for taking the time to come out and meet me and the horses and find out what the coaching with horses is all about. He wrote a nice article in Khaleej Times named "UAE: Meet the German expat who teaches leadership skills using horses".
Jigsaw was very excited to have a look at the print copy where the article made it to the font cover!
Read the full article on their page here.
The Gaggler, Mother's Day Special - March 2021
On Sunday 21st March 2021 we are organizing a special day for mothers at Melia Desert Palm Hotel in Dubai.
Moms get a morning of horse guided coaching and yoga, followed by access to the hotel pool and lunch at the hotel!
Find out all the details in the video from The Gaggler:
3Media UAE, People and Places Abu Dhabi - March 2021
3Media UAE did a full interview not just on my work, but on the person who is behind the business. If you want to know more about me and why I do this work - watch the video below!
Yoga Life Digital - February 2021
 Viki Shah from Yoga Life Digital came to visit us at Desert Palm Dubai to find out for herself how horses can help people, be it mental health issues like anxiety, depression or insecurities, or physical impairments like children with special needs. 
Read her entire and profound article on https://yogalifedigital.com/horses-as-healers
Radio Dubai Eye 103.8 - January 2021
Listen to the podcast from the afternoon show with Helen Farmer on Radio Dubai Eye. Nathalie Cockayne. General Manager at Meliá Desert Palm and myself chatted about the benefits of equine therapy, both for children of determination as well as adults with mental health issues and corporate teams.
L'Officiel Arabia - December 2020
2020, an undoubtedly tough year is finally drawing to a close. 
To begin the new year on a positive note, polo resort, Meliã Desert Palm Dubai has launched 'Team building with horses', in collaboration with a charitable organisation, EAPD (Equestrian Association for People of Determination and MSB Connect, experts in horse-guided empowerment and corporate coaching.
Read the full article in L'Officiel Arabia on their website...
Hotelier Middle East - December 2020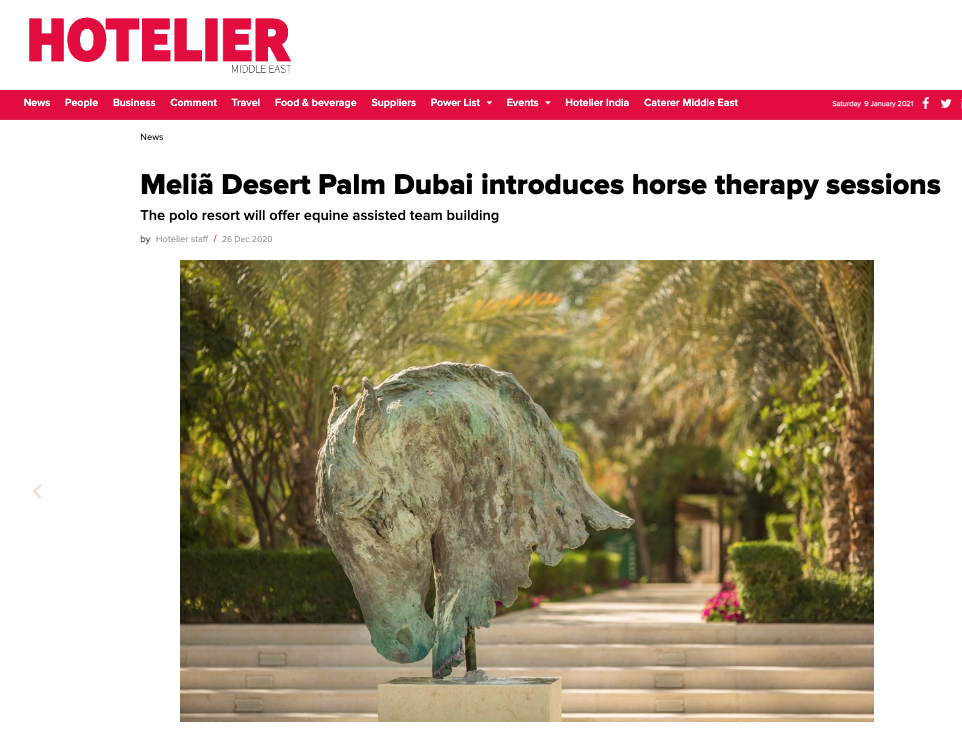 Dubai's Meliã Desert Palm hotel has introduced a new package designed to help people's mental health.
The polo resort has launched 'team building with horses', in collaboration with charitable organisation, EAPD (Equestrian Association for People of Determination) and MSB Connect, experts in horse-guided empowerment and corporate coaching.
The hotel says the benefits of equine assisted therapy date back to ancient Greek times when horses were used for therapeutic riding. The treatment was also used in 1946 to speed up the recovery of polio patients across Scandinavia.
Find the entire article in Hotelier Middle East...
Middle East News 247 - December 2020
In a unique new method of human development coaching, Monica Kubik, a German national who has been living in Dubai since 2006, offers private and corporate sessions in Horse guided Empowerment®.
By observing the reactions of the horses around her clients and vice versa, she can help them uncover what is hidden "behind the mask" which we often put up in social settings.
Vogue Arabia - November 2020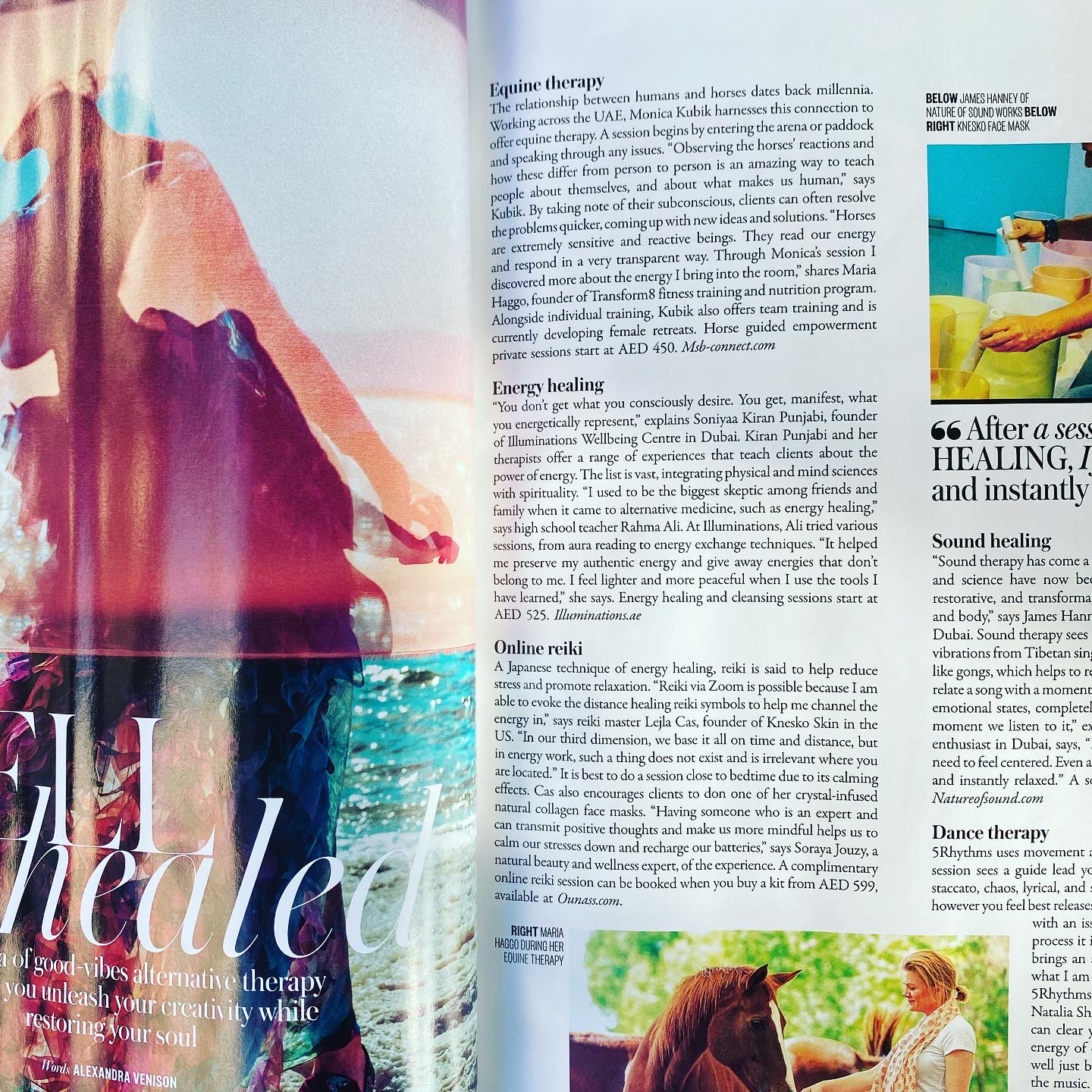 Alternative Therapies That Can Help Heal Your Soul:
The relationship between humans and horses dates back millennia. Working across the UAE, Monica Kubik from MSB Connect harnesses this connection to offer equine therapy. A session begins by entering the arena or paddock and speaking through any issues. "Observing the horses' reactions and how these differ from person to person is an amazing way to teach people about themselves, and about what makes us human," says Kubik. By taking note of their subconscious, clients can often resolve the problems quicker, coming up with new ideas and solutions.
Expat Aktuell - May 2019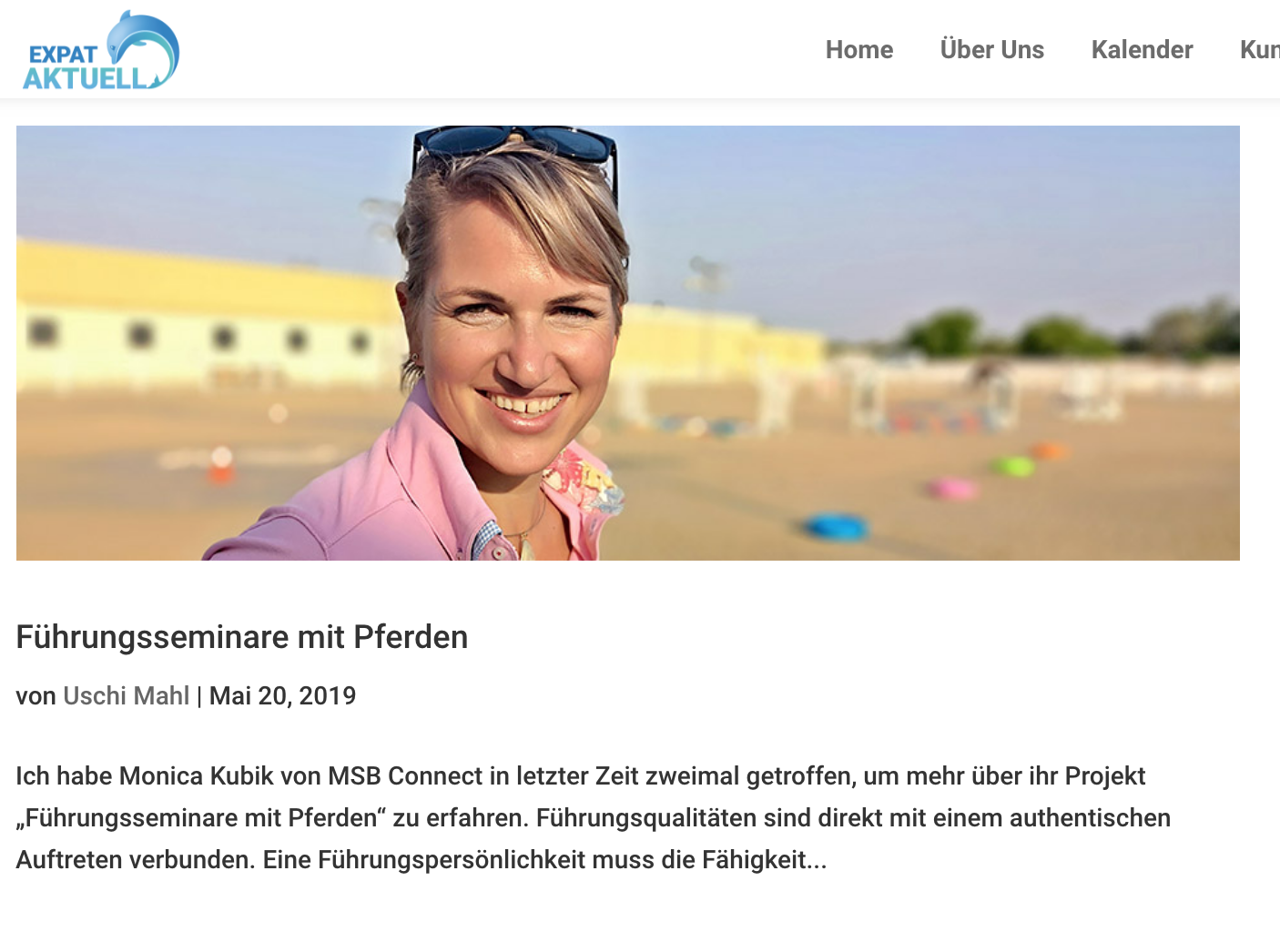 Uschi Mahl runs the newsletter for the German speaking expat community in the United Arab Emirates since many years and is well known amongst the Germans.
She has interviewed me in May 2019 to find out more about the leadership courses I offer with the horses in cooperation with Ride to Rescue at Mandara Equestrian Club in Abu Dhabi. 
Read Uschi's in depth article on her website - auf Deutsch natürlich!
Newsletter subscription
Sign up to my newsletter to stay up to date with upcoming courses, new information added to the website, and more news related to horse guided education in the UAE.