Corporate leadership seminars with horses in Dubai, Abu Dhabi or Riyadh

The corporate world is rapidly changing.
The current corporate culture demands employees to be more agile, resilient and dynamic.
Now more than ever in the flexible working era, organisations need to build an effective leadership team to drive the company's transformation.
This requires highly motivated, open-minded employees as well as leaders who think out of the box, can work in inter-cultural teams, and adapt flexible to changes.
How do you keep the company culture intact when many people work from remote?
How do you keep motivation up in times of insecurity?
Find out how our new approach to corporate leadership seminars can assist your company in the GCC to stay upfront, whilst keeping your employees happy and motivated.

Learn from horses for a better corporate culture

Through the HorseDream equine assisted seminars, I will inspire you to look at your leadership and your team from a new perspective, and to actually feel what leadership can be like.

How do you create a work environment with motivated, creative team members? It has a lot to do with who you are as a person, and seeing your team members as the people who they are.

What kind of leader are you?
How do you show up to others?
How do you motivate the ones around you?
The beauty about working with horses is that they give you immediate, honest feedback on how you come across as a leader.
Corporate Leadership seminars and Team building with horses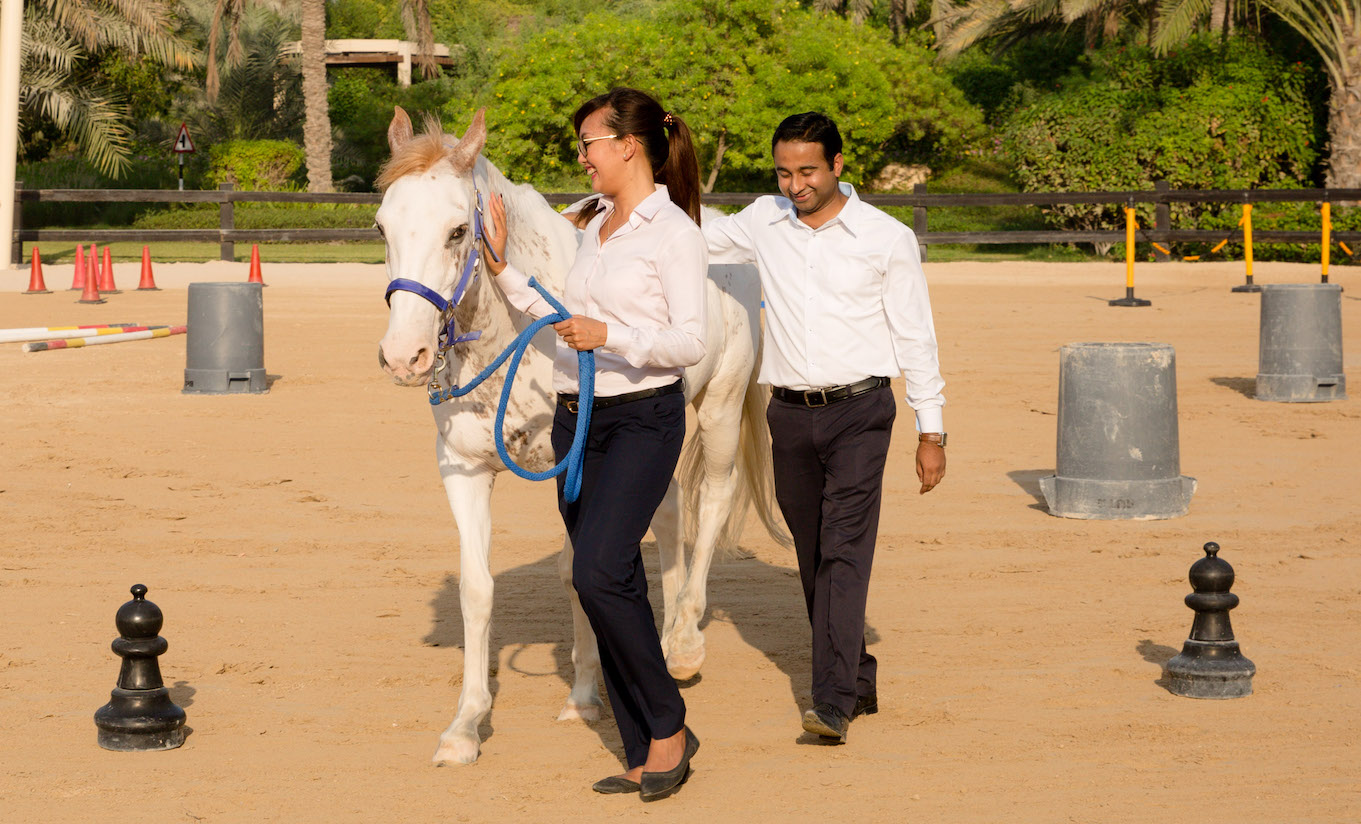 Horses not only have an impact on the leader, but the entire team.
Working with these big, gentle animals has already helped even the toughest, hard-bitten teams to develop emotional relationships and actually see their colleagues with new, open eyes.

Horses, being herd animals, are by nature experts in clear, direct and very simple communication.

They can teach us a lot about how to function efficiently in a team.
Following the team building exercises which are part of the HorseDream seminars, coherence and communication in corporate teams are often improved tremendously within a very short span of time.

The experiences during our corporate leadership seminars are based on experiential learning and touch the limbic system, therewith creating memories which stay.

We don't talk theory.
We just do, and that's when people learn best.
More details on the team building effects of horse assisted training can be found here.

Personality and impact

Horses only care about the here and now and will never judge you or any team member. They react immediately based on the message they receive - a message that they received by listening to a person's body language, mental communication and impact.
All these messages have to be congruent in order not to confuse the horse - meaning, if you want to make an impact, you have to really mean what you say!

Their immediate, unfiltered mirroring makes them the ideal training partners for a new approach in personal development.
Through a mix of practical exercises with the horse that require no previous knowledge with these animals, and theoretical sessions throughout the day, you and your team will have new experiences that can translate into a better working environment in your office and can help you achieve faster and better results in your company.
See below a quick excerpt from a program we ran for the UAE Future Government Leaders:

Meet me and the horses in Dubai or Abu Dhabi

If you are interested in equine assisted corporate leadership seminars, but not sure if this is right for your company, you can arrange a short meeting with myself and the horses.

Speak to me, get a first free introduction to the animals and the surroundings, and see for yourself how you feel. I know the horses will convince you!

Contact me to arrange an introductory meeting and to know more about the Horse guided Leadership Seminars, either in Dubai, Abu Dhabi or Riyadh.
We arrange corporate leadership seminars and team buildings for groups of 2 to 40 participants (with smaller numbers being more efficient for learning), but can also customize to your requirements.
Also highly effective are the one on one leadership trainings in Dubai for high executives who have already gone through all the usual coaching - if you are looking for a new and very personal challenge, ask the horses for leadership advice!

Speak to me about your goals, and we will work out a concept for best impacts and results.

Newsletter subscription
Sign up to my newsletter to stay up to date with upcoming courses, new information added to the website, and more news related to horse guided education in the UAE.