Mental wellness for moms
Every Sunday morning 8.30 to 10.30 am at Desert Palm Dubai
Calling to the overwhelmed mother: Join us to centre yourself and go back out in the world feeling fully empowered
Certified Horse Guided Empowerment coach, and mother of 2, Monica Kubik, invites you to join her for a morning of self-exploration with her equestrian co-trainers - the therapy horses from the Equestrian Association for People of Determination (EAPD) at Desert Palm Dubai.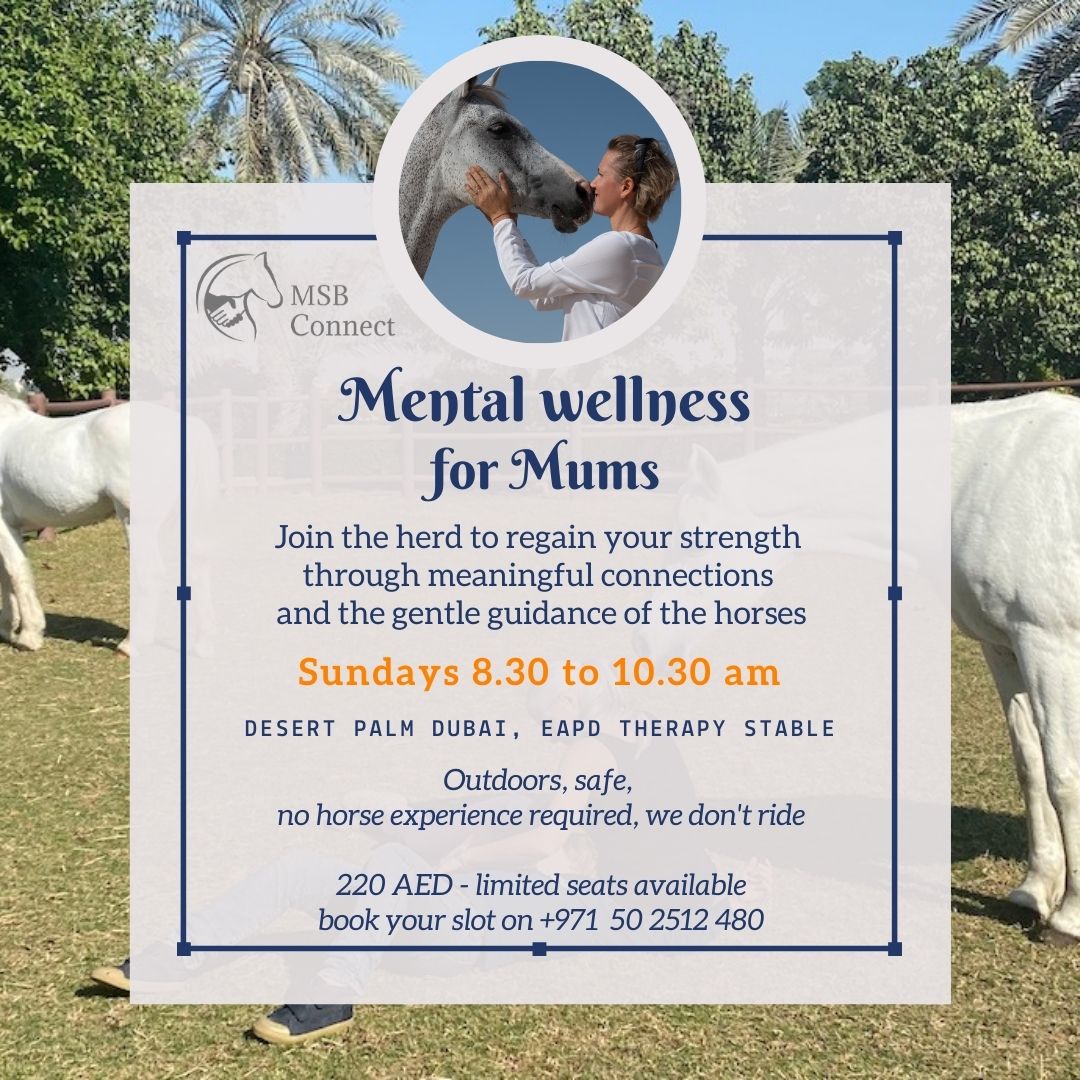 By allowing yourself to be steered by the subtle guidance of the horses, you will gradually unravel your fears and learn how to live from the heart, in harmony with others without compromising your own needs.
Drop the kids to school and take this time for yourself to breathe, calm down, make meaningful connections with these big, gentle animals as well as with a small group of likeminded mothers. 
Learn about what is truly important to you and your life, so you can leave strong and ready to tackle another upcoming week. 
Small, safe groups
The number of participants is limited to 9 - reserve your spot for next Sunday by filling in the below form.
Bring your own coffee or order from Melia Desert Palm Hotel, and get ready to fully immerse into the herd of horses and their world of calm, grounded grazing, surrounded by lush trees and birds tchirping happily.
Get support and help for any concerns you are having right now, and know that you are not alone with your worries. 
EAPD Stable, Desert Palm Dubai
Find the stable of EAPD and the location for our mental wellness mornings here:
Coming from E44 at the roundabout go straight through the security gate. 
Tell security you are going to the EAPD stable.
Continue up the road, over 3 speed bumps.
Turn RIGHT at first road (dirt road between the green pastures)
Continue through paddocks and you will see the white clubhouse from EAPD, the first building on your left side.
This is where we will meet.
What to bring:
You don't need anything special!

Wear comfortable clothes and closed shoes (no flip flops or high heels please) and be ready to spend the time outdoors.
The trees surrounding the paddock give us shade, nevertheless you may want to bring a hat or sunscreen. 
Don't forget your water bottle and mask!
You have the possibility to order coffee, juices, snacks etc from Melia Desert Palm Hotel when you reach us (they will deliver it to the clubhouse), or bring your own, whichever you prefer.
Payments
You can either pay the 220 AED cash on the day, or make a bank transfer to:

Kubik Project Management and Coaching
Account number 019100427941
Mashreq Bank
IBAN AE180330000019100427941
Swift BOMLAEAD 

Thank you!
Newsletter subscription
Sign up to my newsletter to stay up to date with upcoming courses, new information added to the website, and more news related to horse guided education in the UAE.