Updates and what's new on my website!
If you want to get more horse training tips, know how equine assisted leadership seminars can benefit your company, regardless if you are based in Dubai, Abu Dhabi, or any other city in the GCC region, there are different ways to stay in touch with me on a regular basis:
You can subscribe to my newsletter by giving your email address below - this will contain a summary of updates to the website, upcoming courses and any relevant news and topics. Your email address will not be used for anything else and will not be given to any third party.
The newsletter will be sent approximately once a month.

Alternatively, you can use RSS to subscribe to updates on this website by clicking the small orange button (RSS Feeds) below. With no effort will you stay up-to-date on all news and know about all updates on my services to connect people, horses and business.
Why RSS?
Benefits and Reasons for using RSS
RSS solves a problem for people who regularly use the web. It allows you to easily stay informed by retrieving the latest content from the sites you are interested in. You save time by not needing to visit each site individually. You ensure your privacy, by not needing to join each site's email newsletter.
What do I need to do to read an RSS Feed?
RSS Feed Readers and News Aggregators Feed Reader or News Aggregator software allow you to grab the RSS feeds from various sites and display them for you to read and use.
A variety of RSS Readers are available for different platforms.
Once you have your Feed Reader, just add the RSS feed of MSB Connect to the list of feeds your Feed Reader checks.
Sep 11, 2023
Upcoming sessions 2023 2024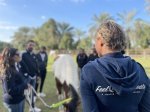 Book here our upcoming horse guided coaching sessions 2023 2024 in Dubai