Anavrin
A horse healing hotel in Ras al Khaimah
Anavrin is a totally new concept, not just in the UAE but worldwide!
A lifetime member of the "Healing Hotels of the world", this new retreat location, nestled in the farmlands of Ras al Khaimah, an Emirate in the North of the United Arab Emirates, is centered around wellness activities in and with nature.

Anavrin, which literally means 'Little Angel', is a luxury boutique, full-service, equine-based wellness retreat, focused on 'healing with horses'.
Rescue horses helping people
Anavrin has partnered with Ride to Rescue, a privately funded non for profit in Abu Dhabi, to offer their rescued horses a magnificent new home, whilst they still work in equine therapy, helping children, adults, corporates and anyone visiting the hotel to find back to their roots.
The horses have air conditioned stables for the hot hours, and in the cooler hours can graze in front of the hotel rooms, or roam around the 1300 m long sand track that leads around the entire premises of the resort.
What I truly love: Here, the horses can move freely, whilst the people have to take bridges or stay behind fences so as not to restrict the horses movement! 
The hotel rooms at Anavrin
There is a huge variety of different rooms available - from spacious chalets, to the "ogles", the main rooms that all have their own little garden space overlooking the horse paddocks. Or you can sleep in a wagon! Fun for the whole family, again being surrounded by horses left and right! 
And there is even a backpackers option for those who want to be close to nature and don't mind sharing a bathroom.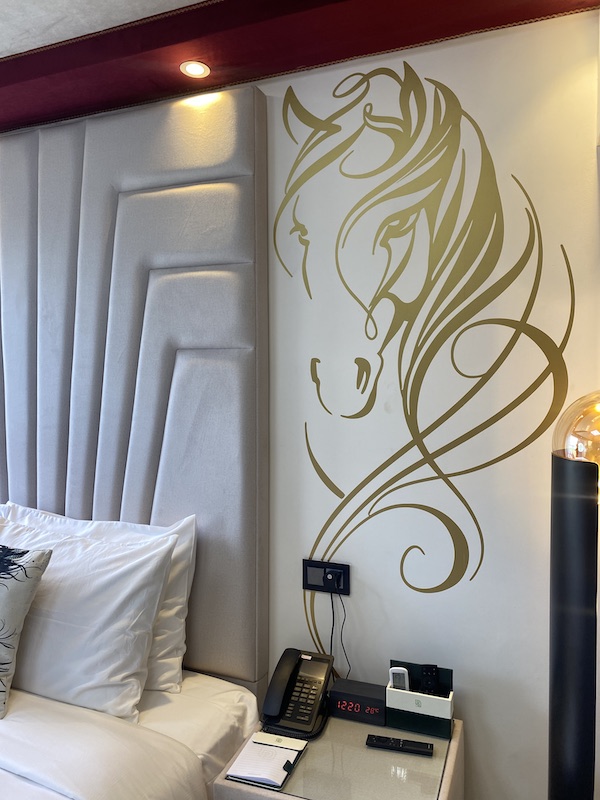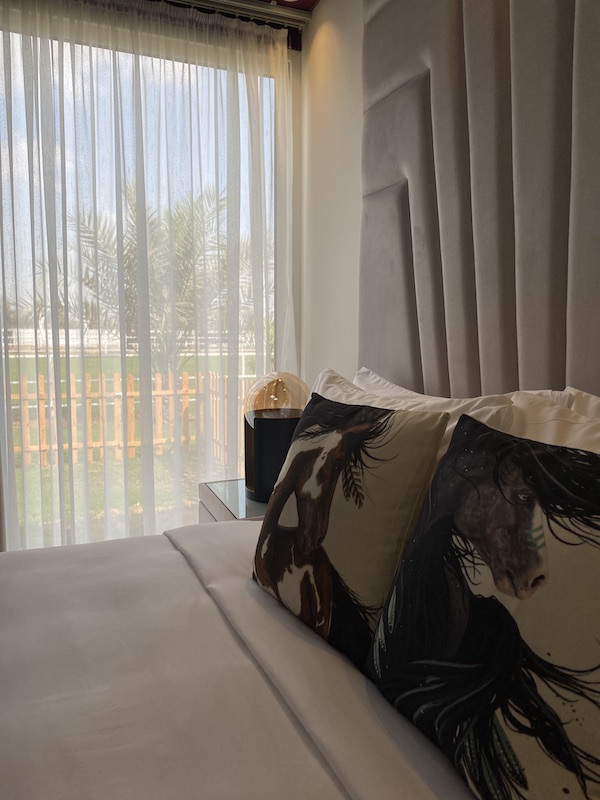 Healing and sports activities
Apart from the rooms, there are many areas to spend your day - visit the library and sip a tea whilst you browse the books around healing, wellness and ayurveda.
Have a dinner in the Spanish themed Granada restaurant, where you sit in little tents under trees full of fireflies.
Sit under one of the many trees, have a lough with friends and family, or meet new likeminded people in a yoga session, meditation class or whilst playing paddle tennis.

You can try fishing in the salt lake that is home to 20,000 little fish, with the horses again walking past and eating some hay on the track...
There is just so much to do and discover here, you need to come and see it for yourself!
Leadership Retreats and Team Building
What is my involvement in the retreat hotel?
It is a 1,5 hour drive from my home in Dubai, you will therefore not find me here permanently.
However, I am excited to be able to offer customers and clients a totally different experience.
Take your team out of the city and back to nature for an unforgettable retreat where we combine leadership training with horses, equine assisted coaching, wellness and sports activities, an overnight stay which is different from your usual hotel, dinner under the stars and much more which will really help to align your team, have talks and discussions under the trees which you cannot have in the office, and truly get to know your colleagues.
Find here all details of the hotel:
Anavrin Equestrian and Sports Resort, Ras al Khaimah, United Arab Emirates and contact me to receive your customized program.

Newsletter subscription
Sign up to my newsletter to stay up to date with upcoming courses, new information added to the website, and more news related to horse guided education in the UAE.