Weekly support group for jobseekers
A Ramadan initiative to support jobless people. We would like to resume this. Do you know anyone who could sponsor us??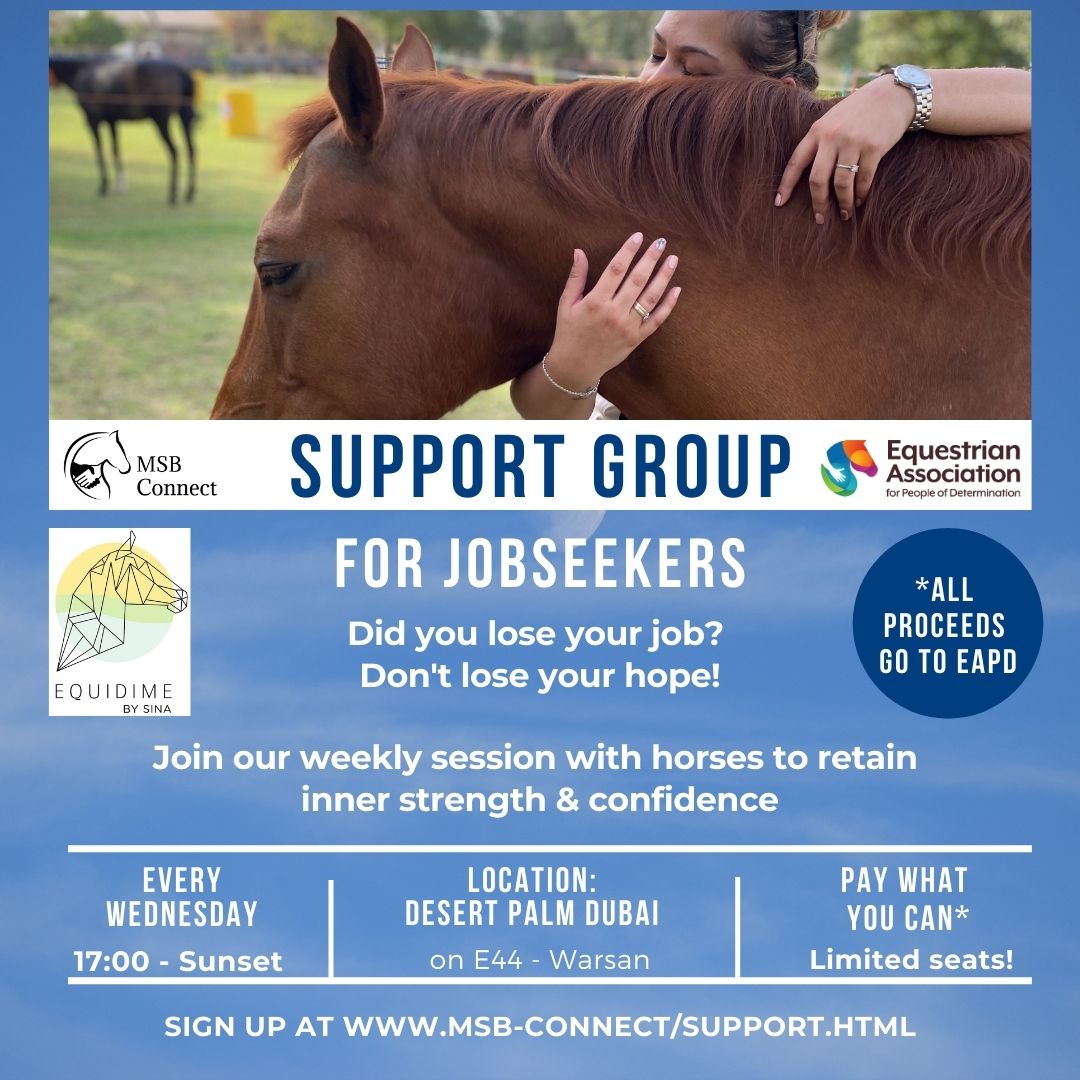 Did you loose your job during the pandemic?
Don't loose your hope!
Especially as an expat in Dubai, this situation can quickly become overwhelming, as it means we have to leave everything behind if we don't manage to find a new position.
With the month of Ramadan being known as a month of giving, I want to gift some sessions with the horses for those people who are currently stressed due to their job loss.
Every Wednesday evening during Ramadan 2021, I invite you to join me and the herd of therapy horses from the Equestrian Association for People of Determination (EAPD) at Desert Palm Dubai. 

Why join?
We cannot offer you a new job. 
But we can offer you a support group, support from the horses and from nature to take a deep breath, come back to yourself, and drop the anxiety levels. 
Get the assurance that you are not alone.

If you have any specific issue you would like to work on, like increasing self-esteem, becoming clearer about your dreams and goals, finding out where you are stuck, or maybe just practicing how you appear to others - we can work on all that.
Small, safe groups
The number of participants is limited.
Bring your own water and juice or order from Melia Desert Palm Hotel, and get ready to fully immerse into the herd of horses and their world of calm, grounded grazing, surrounded by lush trees and birds tchirping happily. Iftar can be taken at Epicure restaurant which is just a short walk away from the paddocks. 
You don't need any prior horse experience to join. 
Payments
Ramadan is the month of giving. 
In this sense, I am giving my time for free because I believe that many people can benefit from this unique and different way of coaching, and from just spending time in nature.
The session is pay what you can - either now or later when you are back in a job. 
The horses we are working with belong to the non-profit Equestrian Association for People of Determination, an organization that has also been struck hard by Covid. All proceeds from the session go directly to them to keep this wonderful and very important therapy stable going. We will have a donation box in the clubhouse if you want to bring cash. 
EAPD Stable, Desert Palm Dubai
Find the stable of EAPD and the location for our support group here:
Coming from E44 at the roundabout go straight through the security gate. 
Tell security you are going to the EAPD stable.
Continue up the road, over 3 speed bumps.
Turn RIGHT at first road (dirt road between the green pastures)
Continue through paddocks and you will see the white clubhouse from EAPD, the first building on your left side.
This is where we will meet.
What to bring:
You don't need anything special!

Wear comfortable clothes and closed shoes (no flip flops or high heels please) and be ready to spend the time outdoors.
The trees surrounding the paddock give us shade, nevertheless you may want to bring a hat or sunscreen. 
Don't forget your water bottle and mask!
You have the possibility to order coffee, juices, snacks etc from Melia Desert Palm Hotel when you reach us (they will deliver it to the clubhouse), or bring your own, whichever you prefer.
Thank you!
Monica

Newsletter subscription
Sign up to my newsletter to stay up to date with upcoming courses, new information added to the website, and more news related to horse guided education in the UAE.