New: Horse rider T-shirt collection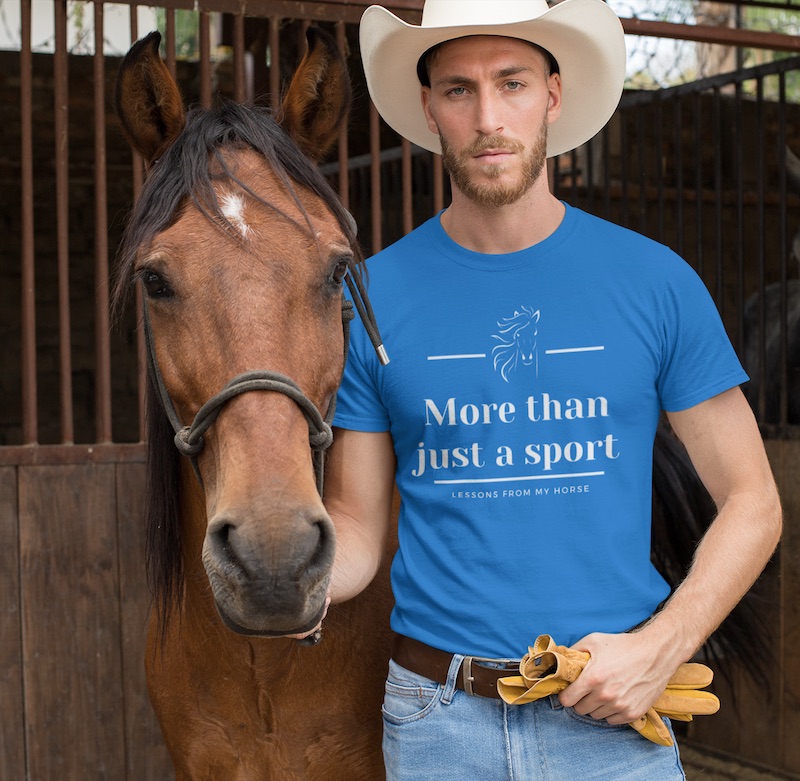 My new rider t-shirt collection was born out of my passion to carry the message of horse wisdom and horse sense into the world!
I believe that there are so many lessons we can learn from our horses.
Horse riding is much more than a sport, and although it challenges us physically, it is really also about the connection between two species, a prey and a predator, coming together and communicating without words to achieve perfect harmony.
Carry the horse wisdom into the world
My desire is to create a range of various apparel - Teeshirts, hoodies, long and short sleeve shirts - for men and women, that resonate with other horse lovers. 
I want to create an equestrian fashion line which horsemanship fans, cowgirls and cowboys, equestrian professionals as well as amateurs enjoy wearing and which proudly shows the life lessons they have learnt from their horses. 
Online store with international shipping
Find our shop with all the different sizes, styles and colours here:
Horse rider T-shirt, hoodies, tank tops, and much more
The apparel from the Horse Human Harmony online shop carry slogans like:

"I am authentic"
"I don't give up"
"Join Up!"
"More than just a sport"
and many more lessons that riders learn from these amazing animals, often right at the start of their riding career like with the statement "I get back up" - something you have definitely heard after your first fall!
Other lessons take a bit longer, but they all definitely serve you for life.
Horses have this innate ability to bring out the best in us, and that is why we love spending so much time with them. The equestrian sport quickly becomes much more than just a sport - it is a life choice!
Use our range of T-shirts, hoodies and tank tops to show your friends why you spend so much time in the stable and why this is so beneficial for your personal development. 
Let's together carry the wisdom of the horses into the world - be proud to be a rider and help me spread these positive messages!
What did you learn from horses?
What are the lessons you have learnt from horses?
If you have any ideas, leave me a message below so I can expand on the range of products on offer! 
I look forward to hearing back from you!
Newsletter subscription
Sign up to my newsletter to stay up to date with upcoming courses, new information added to the website, and more news related to horse guided education in the UAE.
Horse t-shirt, horse hoodies, horse fashion, equestrian clothes, cool horse shirts, long sleeve shirts for riders, stable apparel, men and women shirts, horse gifts