Leading through uncertainty
A workshop to reflect upon and develop personal strategies to deal with the unknown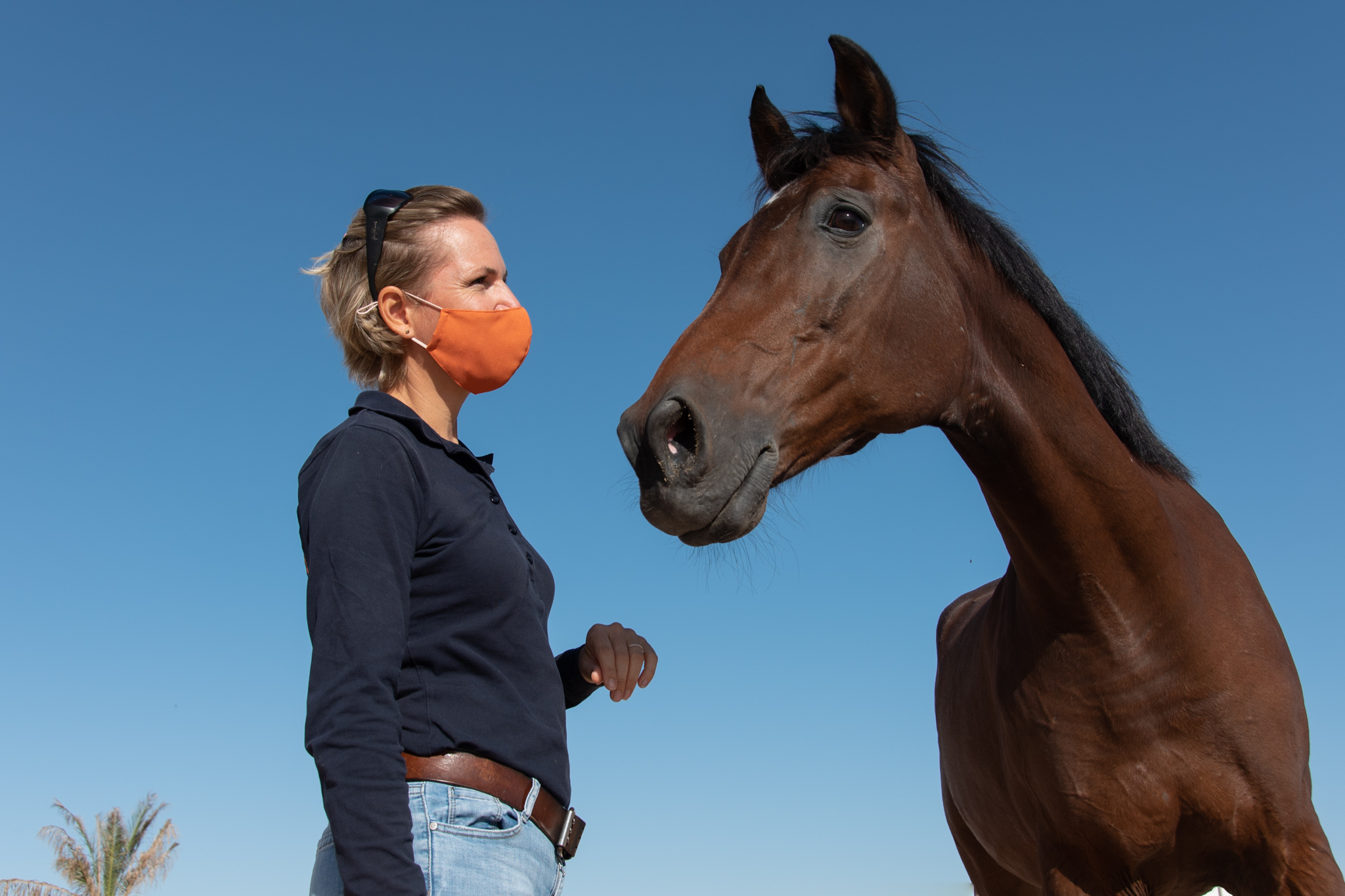 Leading  yourself and others through uncertainty - definitely something we can all relate to in 2020!
How do you take action when you don't know what is still coming?
Has your life been put upside down and you don't know what your next steps should be?
Are you nervous or anxious about the future?
This course is open to anyone - rider or not, business person or not, man or woman. 
In very small groups, and taking into account all safety measures (masks and social distancing), we will explore together with the horses what is holding us back and how we can take more control over our emotions, and our lives. 
We will learn how to lead with certainty, regardless if you are leading a big team or just your own life. 
Coming up: Saturday 28 November 2020
Desert Palm, Dubai
at the stable of the Equestrian Association for People of Determination (EAPD) 
Saturday, 2pm to 7pm

Register your interest - spaces very limited due to safety restrictions

Trust and Respect
How do you lead an animal that weighs half a ton and as a prey animal is constantly on its toes, scanning the horizon for possible dangers and ready to run?
With the right balance of trust and respect.
There is no way you can hold back this animal just with pure muscle force. You need to be convincing.
Too much respect can easily develop into fear, and that just makes it more likely to run at the first possibility.
Too much trust can result in you appearing weak or too soft - in which case, the horse will rather take control itself, as it fears you may not be the right leader to keep it safe.
Only with the right amount of trust and respect will the horse willingly follow you and stay with you.
Self-respect and self-trust
And how do you find this balance?
You need to respect yourself, and have faith in yourself.
Only then can you be convincing.
Remember, horses are always scanning your body language, and notice even subtle signs of insecurity, fear, aggression, or any other emotion you may try to hide.
They react openly to what they sense, so you have to be very honest and real with yourself, else you are sending out mixed signals which are confusing to the horse.
By reading the reactions of the horse, you will immediately receive feedback.
A safe space
Don't worry, this course is a safe space, both emotionally and physically.
The horses we work with are used to working with beginners, and are very calm. Also, we try as much as possible to give them choice and free will - we don't force the horses to do anything or to react under pain.
We respect, and trust the horses!
Also emotionally, the small group of participants will hold a safe container for you to explore your emotions and feelings.
There is no right or wrong, there are no mistakes, and there is no judging.
There is only learning.

Sign up!
Interested to join?
We have the following sessions coming up:
Desert Palm, Dubai
Saturday, 28th November 2020

2pm to 7pm, including coffee break and drinks

Spaces limited
at the stable of the Equestrian Association for People of Determination (EAPD) 

For any questions and more information, please feel free to contact me via whats app on +971 50 2512 480.
I also offer individual one on one sessions which take 60 to 90min and we can go more personal in those, or customized leadership trainings for corporate teams. 

I look forward to hearing from you! 
Monica
Newsletter subscription
Sign up to my newsletter to stay up to date with upcoming courses, new information added to the website, and more news related to horse guided education in the UAE.