Equine assisted leadership training course

A leadership training course with horses?
Yes!

Companies and countries today need real leaders - personalities who can lead their teams and organizations out of the crisis, who inspire, take risks and are personally involved, and thus gain the acceptance, respect and trust from their people.

HorseDream has developed a leadership training course which can benefit all those who are looking to become true leaders - not managers who think like accountants or craftspeople. Not high-flyers who build huge empires which are then prone to crash hard when a crisis hits.
This new approach of a corporate seminar has been working effectively since over 20 years in countries all over the world.
Leadership training course in past centuries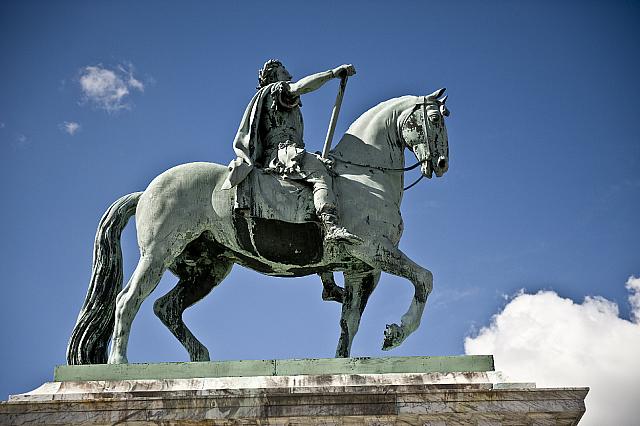 If you think about it, since thousands of years future leaders have been trained with the help of horses.
First you had to resonate with a horse if you wanted to become a king, sheikh, sultan or other kind of monarch and wanted to persuade others to follow you.
Once that was achieved, an oil painting or statue from the leader and his horse was crafted to undermine all the leadership qualities he wanted to demonstrate:
Strength, dignity, beauty, courage, heroism - all the qualities attributed with the word "charisma".
The horse in these statues helped the leader to be seen with all these qualities.
When Allah created the horse, he said to the magnificent creature:

"I have made thee as no other.
All the treasures of the earth lie between thy eyes.
Thy shalt carry my friends upon thy back.
Thy saddle shall be the seat of prayers to me.
And thou shalt fly without wings, and conquer without sword."
Bedouin legend

In countries like the UAE, current and future leaders still have a very strong connection to horses - with horse races like the Dubai World Cup, the world's highest paid race, and many top-class endurance races playing an important part in the yearly event calendar. The leaders and their children can often be seen on horse back themselves, they breed and spend a lot of time around these animals.
I believe that this is not just a coincidence, and that even today, horses are shaping the characters of our leaders.
A bedouin legend explains the qualities which a horse brings with it, and from which we can learn to be better humans and leaders.

Practical exercises to learn the qualities of a better leader
In the practical exercises which we go through in the "Art of Leadership" seminar, these qualities become tangible and can be experienced and practiced:
a deeper understanding of yourself and the ones around you - seeing "the treasures of the earth"

the ability to help / carry team members - a leader can never be completely alone. After all, if nobody is there to follow you, are you really a leader?
"the seat of prayers": We need to learn to communicate clearly and to express what we expect from ourselves and from others
In the course, most people will step out of their comfort zone and experience that they are capable of achieving more than they thought - to fly without wings. The horses also have a very positive influence on people and the atmosphere during the seminar
And when you are asked to move a horse without any force or power instruments, and then the horse just follows you - then you have learned to "conquer without sword", then you are a true leader whom others will follow willingly and not because they have to, but because this leader is inspiring, motivating, authentic....

Interested in a leadership training course for yourself and your team?
Contact me today for details and to speak about how you can personally grow.

Newsletter subscription
Sign up to my newsletter to stay up to date with upcoming courses, new information added to the website, and more news related to horse guided education in the UAE.