HR Think Tank 
Emotional Wellbeing during COVID-19 – how do you build resilience in your team?
A unique HR Think Tank Series in an unusual networking setting - outdoors in nature with horses!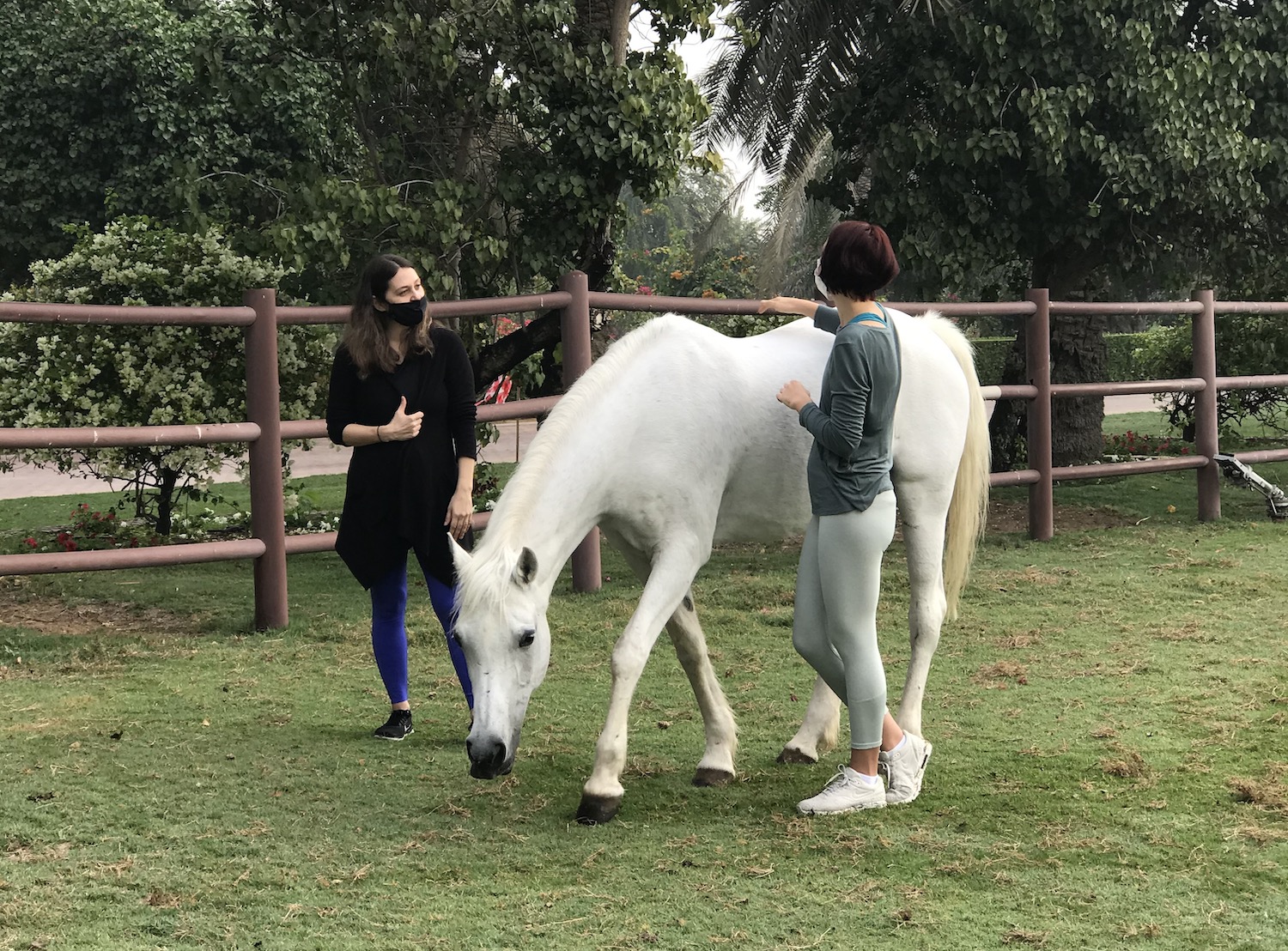 Join us for an authentic and meaningful workshop and learn more about our team building and leadership training programs with horses. 

Meet with the horses at Desert Palm Dubai to:
network with industry peers
exchange ideas and best practices with other HR professionals
learn more about yourself as a person
spend time connecting to yourself and to nature
do something for your own mental wellbeing
gain a new perspective

build resilience, agility, emotional balance, self-trust and situational awareness
This introductory workshop is dedicated to HR specialists and Senior leaders who wish to explore innovative ways to bring successful change within their workplace, and encourage their individuals to work cohesively as a team.
Sign up today to book your spot - limited space only as we meet in very small, personal groups. 
Program and fees
15:00 to 18:00
We will start the afternoon with a welcome coffee on the terrace of Melia Desert Palm, overlooking the green polo fields with Dubai's skyline in the background.

We then walk over to the paddocks with the horses.
In specifically designed activities leading and interacting with the horses from the ground, different topics will come up - topics from your personal life, of who you are when you show up as the real authentic you, as well as topics from your professional life.
We will explore these different themes and discuss how we can implement the lessons from the field in the workplace.
In the circle, we will also exchange ideas and best practices and find out what other companies are doing in these changing times to keep their employees motivated and engaged.
Fees and payment
To cover the cost of the event, we charge a fee of 250 AED pP.
This includes:

Rental of the facilities
Herd of 4 or 5 horses

Certified facilitators
Horse handlers
Drinks (Coffee, Juice, Water) at Melia Desert Palm's Epicure Restaurant
You can make a bank transfer to (let us know by email to monica@feel-quest.com if you require an invoice)
Kubik Project Management and Coaching
Account number 019100427941
Mashreq Bank
IBAN AE180330000019100427941
Swift BOMLAEAD 
Sign up today!
Reserve your spot now - very limited spaces!
The location
We offer this workshop in cooperation with the Equestrian Association for People of Determination (EAPD) and their wonderful, wise horses.
Their therapeutical paddocks lie secluded within the residential area of Desert Palm. 
Through this work, they are able to generate additional income to keep their non-for profit running.
Coming from E44 at the roundabout go straight through the security gate. 
Tell security you are going to the EAPD stable.
Continue up the road, over 3 speed bumps.
Turn RIGHT at first road (dirt road between the green pastures)
Continue through paddocks and you will see the white clubhouse from EAPD, the first building on your left side.
This is where we will meet.
Your facilitators
Monica Kubik is passionate about helping humans learn and develop through interactions with horses.
Certified in the internationally recognized HorseDream method as well as in Horse guided Empowerment®, she works with corporate teams, mothers, teenagers and other individuals seeking answers.
Her calm, positive attitude in combination with her knowledge about horses and passion to empower people makes any session with her unique, in depth and life changing. 
Elodie is a French multi-cultural professional with over a decade's experience in the corporate world. She is to become a Horse guided Empowerment®️ certified practitioner, accredited by the Salesiana University, Ecuador and the UNESCO program for education and inclusion.
A horse rider for over 20 years, Elodie's everyday interactions with the horses has greatly influenced her personality and decision-making process with a deeper insight into addressing any situations with confidence and ease. She draws her inspiration from the honesty and inclusivity of the horses, which has helped her to pioneer inclusivity and diversity initiatives at her professional engagements.
Newsletter subscription
Sign up to my newsletter to stay up to date with upcoming courses, new information added to the website, and more news related to horse guided education in the UAE.