Corporate Wellness and Mindfulness with Horses
Corporate wellness and employee wellbeing is a concept that is gaining more and more popularity in the Middle East, as well as in the rest of the world. And probably after Corona this is going to be even more important!
These programs help to keep employees happy and motivated, and thus effective in delivering the best work they can.
Current days will show how working from home can be one possibility to add for some industries, and will teach employees to work more independent and result oriented.
The corona crisis is also showing us how important human welfare is to the workforce and economies around the world, and that the human factor really has to be taken into consideration more and more.
We are not machines working, we are humans, and that is why the workshops with the horses can be so valuable, to bring more humanity back to the corporate work.
Corporate Wellness programs with horses!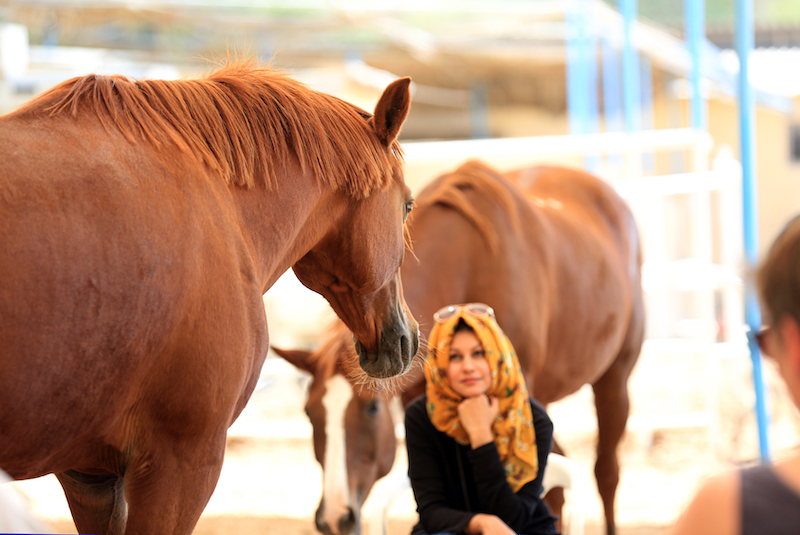 So what can we learn from horses?
We can learn a lot of the important soft skills that make us human:
Empathy
Respect
Trust
Openness
Inclusion
REAL Teamwork
Positivity
Living in the moment and being mindful of our actions
Working with the horses in a specially structured workshop means that you can no longer wear a mask, you have to be your true self.
In simulated role plays, assessment centers and many of the traditional type of trainings, employees wear the same masks they wear everyday at work.
We know what is expected of us, what we should be saying in certain situations, and what is polite.
When standing in front of a 500kg animal however, most participants do not really know what is expected, and have to act just by following their instincts and taking actions. This is where their actions become sincere, and show their real character.
At the same time, we create an atmosphere through the horses where it is ok to be vulnerable and open, never embarrassing.
Participants learn that when they are open with themselves and each other, this makes them stronger and allows teams to truly work together for a common goal, not for individual satisfaction.
In the team exercises with the horses, people have to come together and align their actions, else the horses will not collaborate. 
This clear feedback highlights and makes visible when the team is really united, and when not. Once the team has felt what inclusion and collaboration can be like, it is easy to replicate this back in the office. 
Living in the moment
Horses, like most animals, live entirely in the present moment, not worrying about the past or the future.
On the one hand, this gives us a chance to try new ways and get an immediate feedback.
At the same time, it is a great lesson of mindfulness. 
Corporate wellness does not have to be something boring, and we can make a mindfulness day with the horses be full of action, yet at the same time relaxing, rewarding and refreshing.
Contact me today for a quote and to build your perfect day of learning new ways for your employees and teams to bring more humanity and mindfulness into the corporate world!
Newsletter subscription
Sign up to my newsletter to stay up to date with upcoming courses, new information added to the website, and more news related to horse guided education in the UAE.