Horse connection sessions
Experience authentic happiness, relaxation and wellbeing in our horse interaction sessions. 
In the winter of 2019, we ran several group sessions on a private farm on the outskirts of Dubai.
Herds of over 50 Arabian horses, living a very natural and harmonic life, are amazing partners to bring down your stress levels and introduce you to a completely new way of being with horses.
| | |
| --- | --- |
| When: | Currently all group sessions are on hold. Hopefully next winter we can start running some again, or maybe some private session. For now, everyone stay safe and healthy please! |
| Who: | Anybody looking for authentic happiness. You don't need prior horse experience |
| Why: | Because this is unique and will leave you very happy! |
They are our master teachers in authenticity, unconditional love and becoming present in the moment.
Part of what we do:
Meet and greet, introduction and safety briefing
Discussions around building relationships - trust and respect - flexible boundaries
Sharing space with the horses
Connecting to the horses
Exercises on respect and trust
Reflecting and debrief
What you can expect:
self-reflection
joy
lots of horse kisses 
interesting conversations
chirping birds, a desert breeze, lots of greenery and shade and a variety of other animals too
a very deep feeling of relaxation
We had people telling us that they slept better following the days of the session, and many started reflecting about their life and what really matters to them personally.
Why authentic happiness?
Horses live in the very present moment. In order to connect with them, we have to become present as well.
Furthermore, horses know no masks.
They are always authentic and have no ulterior motives or calculating thoughts like humans do.
They simply act based on what they see, hear and feel. If you truly want to become part of their herd, they request you to just be yourself, not acting any roles. 

What is special about this specific group of horses is that they have been left to just be horses most of their lives. Many have been born on this farm and have not been conditioned like most riding horses. They are kind and loving prey animals with very strong instincts, and therefore are even more "real" than most horses we find in the stables these days.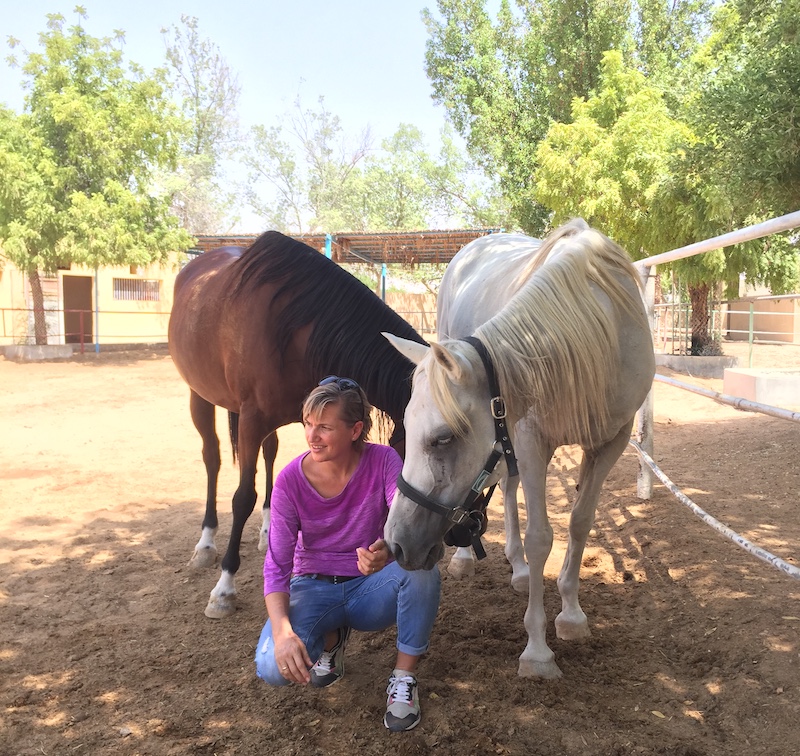 Is it safe?
The mares on the farm live in groups of around 10 horses each. They are together day and night, always free to decide if they want to stand in the shade, sun, want to drink or run, roll or play.... 
Hierarchy fights don't happen much as the groups are very stable and have been together in this constellation for years.
They are very authentic, but they are also horses, and that means they may always run or make a sudden move at any moment when we don't expect it.

However, in our special way of working with them, we always give them choice.
No horse is forced to be with us, and therefore, only the ones who truly want to be with us are the ones coming to us.

This is what makes the interactions much safer than if a horse is forced to perform for us, by using instruments and tools which are there to cause pain.
A horse is a huge living being which we can never truly control, they are simply much bigger and stronger than us.
We believe in cooperation instead of control.
Location
The encounters take place on a private desert farm around 40 min outside Dubai, just behind the SkyDive Dubai Desert Dropzone which you can find on google maps.
For exact details and to reserve your spot, please send me a message or whats app me on +971 50 2512 480.
Monica
Newsletter subscription
Sign up to my newsletter to stay up to date with upcoming courses, new information added to the website, and more news related to horse guided education in the UAE.