1-1 Executive coaching with horses
Our bespoke 1-1 executive coaching with horses is the ultimate program for leaders who are ready to work on themselves and are seeking something more effective than the usual classroom training.
Get clarity on how you come across, where your strengths and weaknesses are, and work on your personal leadership style.
For leaders who are open and willing to grow, this is a fast, straight to the point and hands on course where you directly learn to embody the change, so it will become part of your nervous system.
Target audience:
Future leaders looking to develop their personal style and become more confident
Women in leadership looking to work on their assertiveness and effectiveness 
Senior leaders who have already gone through all the different courses and are looking for a unique, straight to the point coaching method with 360 degree feedback
Outcomes
Take your leadership performance to the next level with our 1:1 executive coaching with horses:
Sharpen the existing leadership skills that serve you well and develop new ones. 
Through the interaction with the horses you will work on traits like empathy, decisiveness, assertiveness, a clear vision and motivating others. 
Practice how to deal with situations of uncertainty and disruption whilst being in a safe, non judgemental space
Maximize time with a series of effective, straight to the point and eye opening coaching sessions.
See immediate results by practicing your new skills with the horses who will give you immediate feedback on what works and what doesn't.
Embody the change - this course is real and alive, not just theoretical, making the learning stick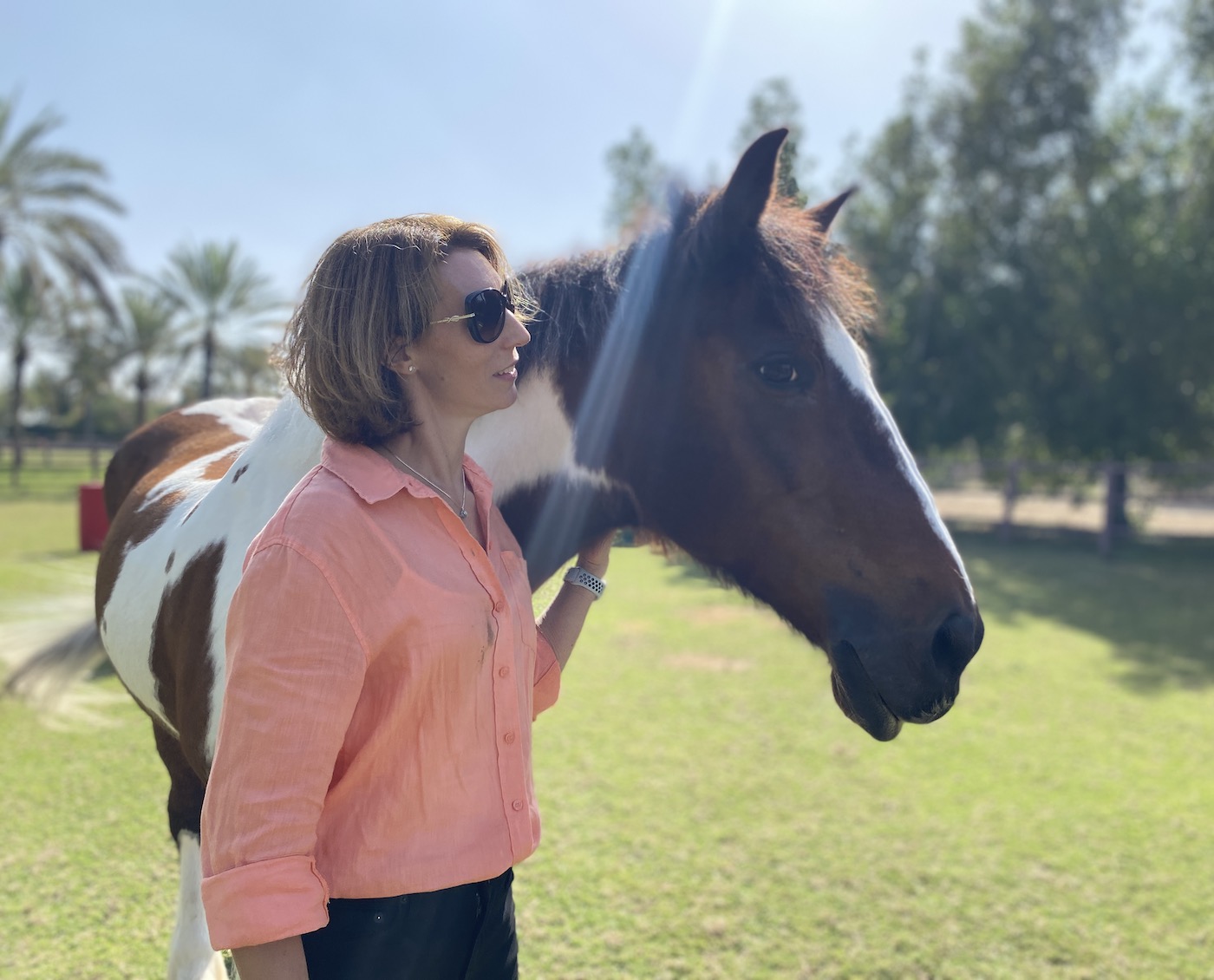 Duration
We work with you in a set of 7 sessions:
3 sessions of 90 min at Desert Palm Dubai with the herd of horses to practice desired behavior and outcomes in a safe, non judgemental learning environment
In between each horse coaching we will schedule a 60 min session in your office for video analysis and learning transfer
One 90 min session in the office or online for psychometric analysis using the Humantelligence software
Location
The sessions take place in the green oasis of Desert Palm, a secluded resort behind International City.
Book early morning sessions before going to the office and start your day with energy and sunshine!
How does the 1-1 executive coaching with horses work?
These programs are highly individualized. There is no "right or wrong" way of leadership. What we want to develop in this hands on course together with the horses is to help executives find and develop their very own leadership style. 
Outside of the office, in touch with nature and with who you truly are, you can find out where your true strengths lie, what stresses you, what bothers you, how you are seen by others (who probably in the office environment will not say it very directly) and work on becoming a version of yourself that is effective, productive, assertive, and at the same time you feel comfortable with.
In the field with the horses, we can design and replicate situations in the office that you want to work on:
Having difficult conversation
Navigating change
Working under tight deadlines
Dealing with stress
Managing a very diverse team with different interests
and we will find and practice solutions that work for your specific problem.
The highlight is the video analysis, where you get to see yourself from the outside - a highly valuable and eye opening experience and something you cannot as easily do in the office.
Together, we stop and pause to analyze what worked, what didn't, and what needs to change, to then go back into the field and practice it until you are happy with the results.
Pricing
Contact me for the current rates of the 1-1 executive coaching with horses.
Please note this coaching training can be booked in conjunction with our group or team building sessions and is a great addition to further develop certain individuals.
It can however also be booked separately and is ideal for those willing to invest in themselves and how they come across.
Newsletter subscription
Sign up to my newsletter to stay up to date with upcoming courses, new information added to the website, and more news related to horse guided education in the UAE.